It's that time of year once again in New Orleans, no its not Carnival Time, better known as Mardi Gras, but it's festival time! New Orleans has 130 festivals per year, with an average of one festival every three days per the New Orleans Tourism Official guide website.
Out of all the festivals, one of my favorites is the Essence Festival. 2018 Essence Music Festival will begin on Thursday, July 5th, and ends on Sunday, July 8th in New Orleans, La, my city, my home, my birthplace, my NOLA.
Moving back to New Orleans has impacted the way I attend any festival. Living in New Orleans with so much going on can be significant and has its perks, but also disadvantages, and we try our best to live somewhere along the middle. New Orleans is a city of never-ending events, music, food, partying, but living here and being a part of all our city offers requires having a master plan, at times we have to plan more than the average tourist.
Yeah, We Going to New Orleans for the Essence Festival!!!!
Yes, planning in advance and your arrival time for any festival or event in New Orleans can be the deciding factor on how fabulous of a time you will have. Time is critical; can you imagine living here and dealing with the craziness… Yes, we live here, have no need for hotels or car rental, but we deal with the same issues as a tourist, maybe more. New Orleans has constant activity 24/7; events and festivals every weekend may sound exciting, but there are days when you're as sick of traffic. Our lives, schedules need adjusting.
Over the years I would plan my visit home to coincide with the festival because Essence is the must black girl event to attend, nothing but, #MyBlackIsBeautiful in New Orleans day and night!!! Year after year, I would travel to New Orleans to get my annual sprinkle of #BlackGirlMagic glitter dust. More often than not, I would hit the road with my Auntie and cousin, making it an official "Girl's Trip!"
We had one up on the other tourist coming into town, family living in New Orleans. My family more often, my grandmother would host our stay; this allowed us to save our coins by not staying at the overpriced hotels. There were times when I needed to have the total Essence Experience; you know to be my very own star, act like a diva, and to be that Essence Girl. To be all things fabulous, I needed to stay at a hotel, but I had a regular chic bank account. Therefore I booked my rooms months prior.
Planning is key to getting the most out of attending the festival. There's so much to do, and if you do not plan your trip accordingly can end up with you bummed out at the hotel. Planning includes planning for the convention center, day parties, restaurants, the Superdome, and Bourbon St.
Don't try to do it all. Make a list of your must do, you know the things you want to see, do, and eat, leaving room to do something that will pop up. It's tough being here, seeing and smelling everything, the smell and sights of the city are intoxicating alone, adding Essences will have you OD's off New Orleans. Pace yourself and do not trip out if you just can't do something.
Make sure to include rest and wardrobe change in your time management plan.
I'm here to give you Essence Tips from a local perspective, who's better to tell you anything about and the things happening here, but a New Orleanian. I will help you not only a slay Essence, but also enjoy all my city. If this isn't your first trip to New Orleans, I guarantee this will be the best of the best.
Let me show you My Nola as you stay and party in NOLA for the Essence Festival. I hope that you will leave New Orleans feeling as if you are a New Orleanian!
Transportation
Let's start off with the obvious, which is planning your trip to New Orleans for the Essence Festival early. Some people start planning while they are in the midst of the festival for the next year, yes it's that real. The sooner, the better, especially for those of us who are on a budget, both airline and hotel prices are increased to the tune of 300%, but hey if you have it like that, then do you, Chic.
There were times when I came home for a visit a week before an event, and the cost gets a 4-star hotel for under $125, but during the Essence Festival, actually, any festival or event that same hotel, same room will run you about $400. You can cut cost by booking early, more than 60 days prior, because once the rooms get booked means the prices increase, the same goes for airfare.
As I mentioned before I'm all for saving and I have no qualms with flying on Spirit Airlines. I'm not sure what all the gossip is for, but for under $100 round trip I will fly into New Orleans on the spirit with no problems. Yes, I have to pay for my bag, but there is no beating $100 round trip ticket. I suggest if you're not too bougie and you're not coming with over two bags, I highly recommend you using Spirit Airlines.
Tip for Spirit Airlines: Go into the airport to buy your ticket you can save almost $40 per ticket at the counter, this option is not for other airlines.
Prices increase once the rooms and airline seats are just about at full capacity, not the opposite. Some people think a deal will pop up when this is the case; they are wrong. Don't wait till the last minute you will spend hundreds more on that ticket you saw for $89 months ago.
The only way to get a deal is to buy when no one else is buying. You will notice when more than half the seats or rooms are open is when prices are at their lowest.
Also, I use discounted sites such as Hotwire, Priceline, and etcetera to purchase airline tickets, hotels, and car rental. You can save hundreds of dollars by booking on these sites, especially if you do it months in advance. Often there is code for these site via Retailmenot that can save you a few more dollars on top of the savings.
For example, hotels and airlines sell a block of rooms/seats to discounted sites such as Hotwire, Travelocity, etc., these sites offer a greater discount, but there are only so many offers they can sell, booking early is the only option to get a great deal on these sites.

Special Offer! $25 Off of Your App Motel Reservations Of $100+

Get $25 Off your hotel reservations of $100 or maybe more when you buy throughout the Hotwire App. Promo Code: WELCOME25
If you're coming with a group, I would recommend driving depending on where you're from, but you can share driving and the gas cost. An added plus with driving is you can bring some New Orleans delicacies home. There have been times when I was craving a hot sausage PoBoy after I left New Orleans and how happy I was skipping to my kitchen in Minnesota. Yasss driving can be fantastic!.
I've noticed over the years that there are buses that come here leaving out US cities such as Atlanta and Houston offering day and overnight trips to the Essence Festival, freeing you from the worry of driving to New Orleans as well as driving in the city. I think the bus option would be really cool for someone who is traveling alone, as well as for a group. There's the opportunity to you meet people on the bus from your town, networking and meeting new friends is always a good thing. You and your new friends may decide to hang out in New Orleans and when yall get back home. Whatever, you mode choose to get here, I highly suggest that you start planning early and don't be afraid to save money, but hey if you have it like that, go ahead and spend it.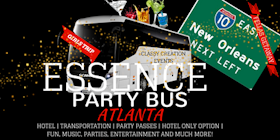 Essence Music Festival 2018 – One Day Trip – From Atlanta, GA to New Orleans $25-$125
Accommodations
Now, on to accommodations. As a local of New Orleans, I do not support Airbnb, none of us support Airbnb. Why may you be wondering? Airbnb has made it not an option for natives to live in homes they can afford in the same neighborhood we lived in before Katrina. The very people who work in the tourism industry can not stay in New Orleans anymore. Then the housekeepers work for $7.50 at these million dollar hotels, but hey they are working. Airbnb does not employ workers, literally taking away income from the natives. We have been pushed out of the wards, well our neighborhoods, because they are located within minutes of downtown, Bourbon St, French Quarters… These very neighborhoods were avoided by these same people who have the moved in. Natives were given pennies to rebuild, and it wasn't enough to rebuild, which resulted in them selling their property. The city, the government, FEMA knew what they were doing. Now, these same homes that they tricked residents into selling for $50K or less are on the market for $180+ and the wealthy non-natives, transplant come in town and buy up the property like it's Monopoly.
Gentrification… It's all about gentrification. I know you all want to live how we live, that's a whole other bowl of gumbo, but if you just have to stay at one, please patronize the community you are staying in. Go to the corner stores, patronize black own small businesses, and tip the waiters/waitress.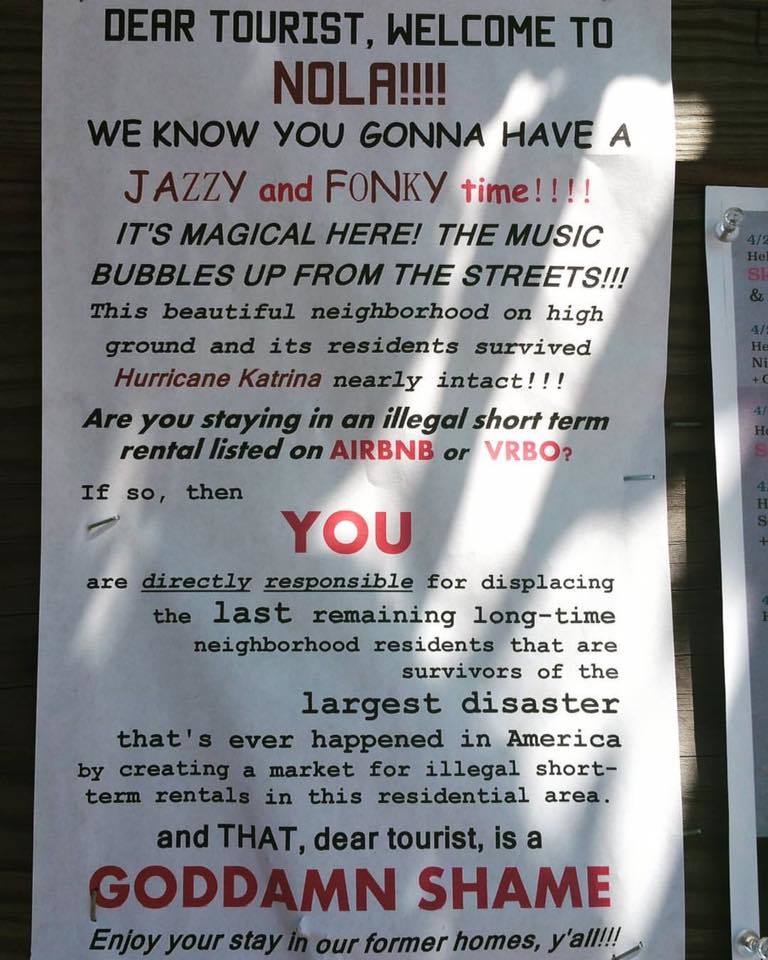 I have blogs about our neighborhoods.

My favorite hotels: The Saint Hotel, Queen & Crescent, Intercontinental, Omni, Chateau LeMoyne – French Quarter, A Holiday Inn Hotel and Embassy Suites, St.Pierre Hotel French Quarter


Traffic and parking Tips
To avoid getting caught in traffic and paying for parking, I recommend getting a hotel that's close to the convention center or Superdome area, which will be the downtown/French Quarter area. There is also the option of getting a hotel on a bus line or streetcar line, which would be great because it would allow you to see the city. Tourist who stays within walking distance of the events has one up on all of us, yes, including the locals. All they have to do is get dressed and walk, saving major time and money. Most hotels that aren't located downtown do not offer valet or charge for parking another savings as well because, if you do come in a car you do not want to pay $40+ a day for parking.
Parking garages, ramps and lots get pretty spendy during this time as well, and prices can be as high as $50 depending on the location. The parking meters are designed to trap you into an expensive ticket, on-street parking meter rates in the French Quarter, Marigny, Central Business District, and Warehouse District are $3.00 an hour. Parking meter rates are $2.00 an hour everywhere else in the city of New Orleans. Operating hours for the meters are 8 a.m. to 7 p.m., Monday-Saturday.
Parking Panda
Use the Parking Panda online platform and mobile app to find, reserve, and pay for parking in advance. This mobile reservation service operates in selling reservations for a variety of companies at over 30 locations in New Orleans.
Premium Parking
Premium Parking also offers online reservations at several locations in the New Orleans Area. To reserve parking, go to www.premiumparking.com/park and click the red pins on the Google Map for your desired location. You then follow the links and instructions to complete your parking reservation. Their overnight rates offer a significant discount from the rates hotels charge.
Do not take any chances with parking. You will get a $150 boot or towed to impound lot. If you rented a car and it gets towed, you will need to contact the rental company to obtain permission to have it released to you. These people do not play, do yourself a favor, and bypass the rental car…
Numbers to Know
General Parking Questions & Parking Enforcement: (504) 658-8200
Administrative Hearing Center: (504) 658-8250
Booting: (504) 565-7451
Towing Information/Auto Pound: (504) 658-8284
Parking Enforcement: (504) 658-8200
Plan accordingly, giving yourself more than enough time to consider sitting in traffic.
Bus, Streetcar, and Ferry
New Orleans is just a big circle, which is why I do not understand how people get lost. It takes one to get off the I-10 to exit onto another highway to get out of here, and the same goes for the bus. The main buses and streetcar that travel downtown are very easy to navigate on, just don't transfer to another bus and come back on the same one, well number.
The streetcar can pick you up on Canal St, downtown and bring Uptown or City Park are allowing you to see the all the beautiful New Orleans architecture. The streetcar has the round trip option if you are using it for sightseeing. All you need to do is get off at the end of the line, allowing the driver to get a short break after he is done he will let you know when it's time to depart back to Canal St.
I love the streetcar, especially the traditional green ones that take you down St.Charles Ave, they have that woodsy spicy old smell, the sound of the seats and the windowing clicking as they go up and down takes me back to my childhood. Riding the streetcar is a must no matter what you are here for.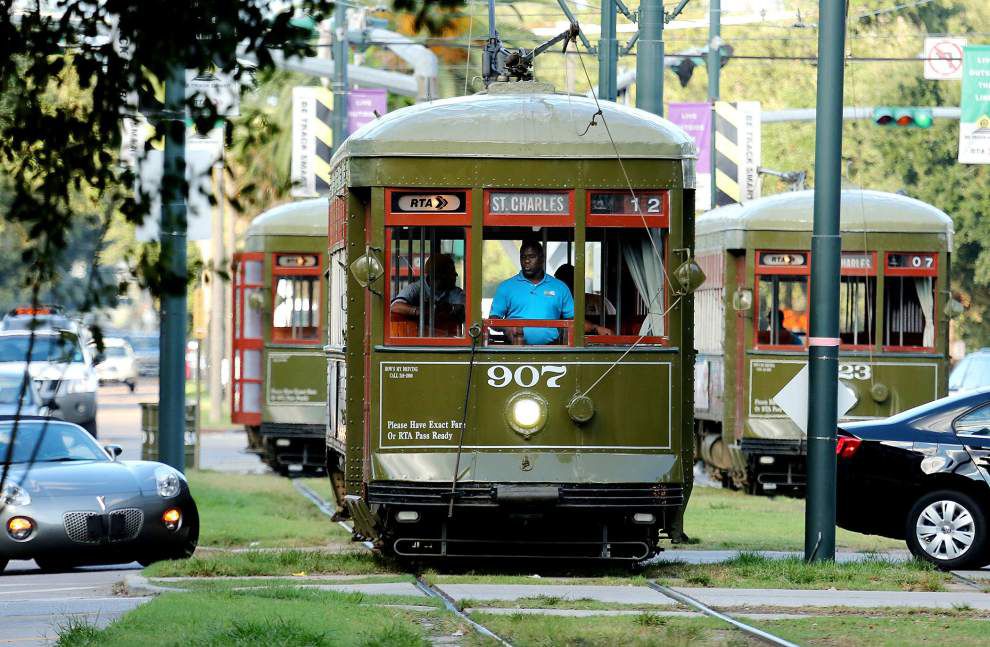 Located at the end of Canal St is the Ferry which will bring you across the river for $2 each way. The ferry was such a beautiful ride across the Mississippi River. If you're debating on a boat ride to see the New Orleans skyline, I recommend just taking a round trip on the ferry. It cost only $2 each way, so that's $4 and you'll have a great view. It's cheaper than buying a dinner boat ticket that cost like $50 and more. I recommend checking what time the sun sets and go then. The ferry comes every 20 minutes. The ride lasts about 5 minutes each way. If you don't plan to get off on the other side, just know that you'll need to get off, and go around back in line and pay to get back on the boat.
RTA's Standard Ticket One-Way Fares are $1.25 for the Streetcar and the Bus; Express Bus is an additional $1.25 and Transfers are 25 cents.
Bring exact change like small bills or coins. There is a vending machine that will give you change if you forget. Hopefully, your smallest bill isn't a $20. I got dollar coins, and those are so heavy.

RTA offers discounted daily passes, and there's an App you can download as well via RTA's GoMobile app: http://norta.com/Getting-Around/GoMobile-App
RTA's GoMobile app lets you purchase and use passes instantly on your smartphone! Buy tickets anywhere, anytime in just seconds! GoMobile offers a variety of RTA pass options. The app also offers an Integrated Ferry, Bus, and Streetcar Pass that allows you to ride on all RTA ferries, buses, and streetcars using one pass!
Chilling on my porch with a short safety tip
Please check out part 2 for tips on concerts, swag bags, convention center and much more!!
Let me apologize in advance…all of my 3500 words just pooped off my page, but I was able to save some of my work/tips, and U noticed how popular the 1st blog was that I decided to upload what I have in picture form till I get a chance to retype later.
Thanks for reading! Nola Chic