---
NEW ORLEANS (press release) – A one-of-a-kind party taking place at Bar Marilou — the recently opened cocktail bar and lounge in New Orleans and the first US project from Quixotic Projects (behind popular Paris bars Les Grandes Verres, Le Mary Celeste, Candelaria, Glass, and Hero).
Bar Marilou's New Year's Eve party will feature an open bar with passed canapes from 10 p.m. to 1 a.m. A live jazz band trio will perform from 9:30 p.m. to 11:30 p.m. before DJ Tristan Dufrene takes over from 11:30 p.m. to 1 a.m. Throughout the evening, there will also be various interactive performances including an acrobat duo, Snake Charmer and Burlesque performer Xena Zeitgeist, a contortionist, and Drag Artist MaryBoy.
Tickets are $95/person for standing room and $150/person for seated and will be available at BarMarilou.com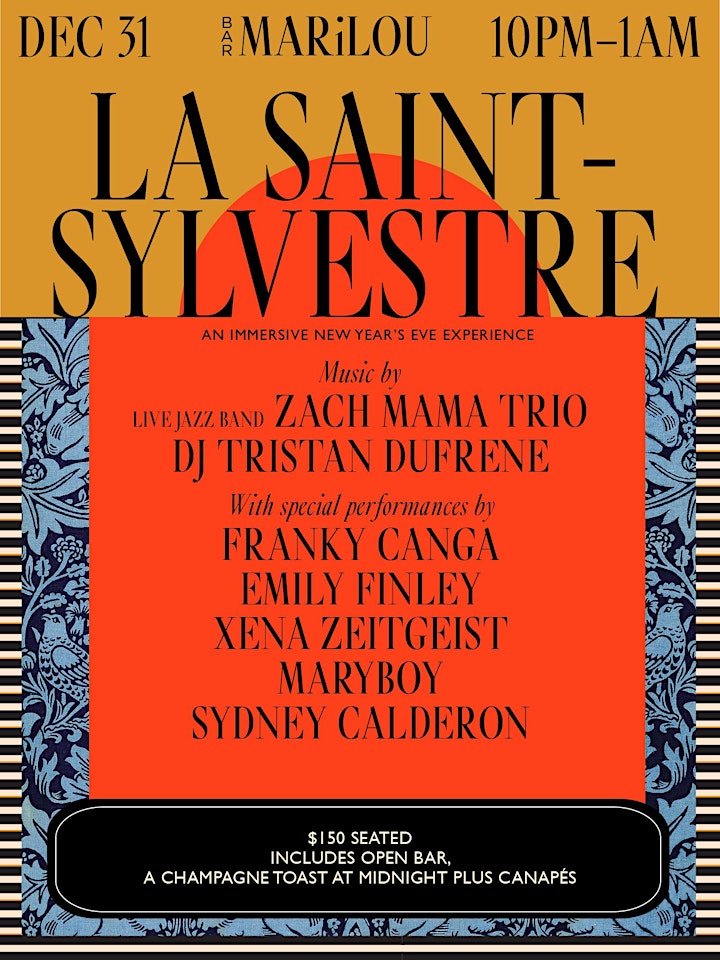 About Bar Marilou
Bar Marilou is the new cocktail bar and lounge housed in the former City Hall law library in New Orleans at Maison de la Luz, the new luxury guest house by creative studio Atelier Ace [the team behind Ace Hotel], in partnership with Quixotic Projects, France-based hospitality group behind acclaimed Parisian venues like Candelaria, Le Mary Celeste, Glass, Hero, and Les Grands Verres.
The first-ever U.S. project by Quixotic Projects, Bar Marilou's beverage program is developed by Joshua Fontaine, Adam Tsou, and Carina Soto Velasquez [who was inducted into Tales of the Cocktail 2019 Dame Hall of Fame], and features an expansive selection of apéritif and specialty cocktails available in three sizes (small, medium and large), alongside a thoughtfully curated natural wine list.
The lounge also offers bar snacks and seasonal bites, including Ceviche with tuna, avocado, trout roe, leche de serrano, and micro sorrel; Heirloom Tomatoes with peaches, shishito peppers, garam masala and ricotta salata; Pommes Marilou with crème fraîche and bowfin caviar; and a signature Bar Burger with cantal and tomme de brebis cheeses, pickled cucumber, lettuce, and onion, among other items.