My niece and I decided to do "Bourbon St" after dinner, and as we walked down the always busy famous street, she noticed a woman, a Gypsy, sitting at her woman sitting at her "workstation," which was composed of a small table covered with a table-cloth, burning candle incense. She was finishing up a couple who gave her an embrace before leaving, she smiled and thanked them, and that's when my niece recognized her. The woman's smile had a few missing teeth, but she wore it well lol.
My niece ran into her in Jackson Square over a year ago on her way home late one night. She was upset with her boyfriend, and the woman approached her, offering free reading after noticing her tear-stained face, but we would realize her reading would bear some truth.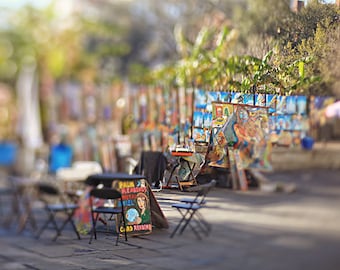 The next moment my niece pulled me to the woman's station to show off her baby bump. Her first reading with her would reveal one of her tarot cards would tell of her being a new mom, and here she was pregnant, not even four months later. They exchanged pleasantries, followed by my niece, asking her for a reading for me. I said I didn't believe in Tarot Cards, Voodoo and etc., but my niece pleaded with me by rubbing her new baby bump suggesting that the Gypsy foresaw it. I thought it was just luck on the Tarot readers part. Plus, anyone could have guessed that a young woman crying over her boyfriend in the middle of the French Quarters was either PMS's or pregnant lol. She pressed on, "Give her a try, she been out here all day trying to make some money in this hot sticky city. Plus, she's the real deal." I thought to myself, she's so much of the real deal that she hasn't made money to get her mouth fixed and she's working on Bourbon St with the rest of the hustlers… The Gypsy added, "How about I read you for free, honey?" I finally agreed and was surprised as you will hear.
Being a New Orleanian, I have been asked beaucoup times not only about, but if I do Voodoo?? Do I know anyone who does Voodoo?? At times I was told that all New Orleans people practice Voodoo, it used to piss me off and anger me, but I have written it off as ignorance.
It took me to educate myself on Voodoo, well there's a refined version called Hoodoo, and neither is what people think. It's not this scary dark pin poking doll hocus pocus the type of witchery going on, but it's a form of religion as any other religion.
Voodoo is a religion with origins in Africa and Haiti, but not how the media shows it. I'm still learning, going into the real shops, talking to others who hide behind their beliefs, because of fear of judgment from us. But as with religion, there's so much to learn. I'm in the beginning stages, but I will make a blog about what I learned so far.
If you frequent Bourbon St, you probably have seen this lady, but tell me you think of my session and your take on this topic on Voodoo???
Tarot Card Reading on Bourbon St