This evening, while researching Mardi Gras's history, my mind was flooded with memories of Mardi Gras. It felt as if I stepped back in time. I could see flashes of each experience. Not only could I see myself at certain phases of my life, but it felt as if I could smell, touch and taste.
I'm thinking it was the song "It's Carnival Time" that mentally morphed me to the early 80's where I could see myself standing on the neutral ground with my Aunties and cousins. I had to be about six years old, well that's the feeling in my heart. I felt small, quiet, and excited as I looked from the neutral ground at all the people lined up on the street as I heard my Aunties singing along to the song, "Yass, it's Carnival Time, and we are having fun!" They were snapping their fingers, and for whatever reason, the women in my family dance with their hips, feet barely move, but those hips certainly do… lol
The Aunties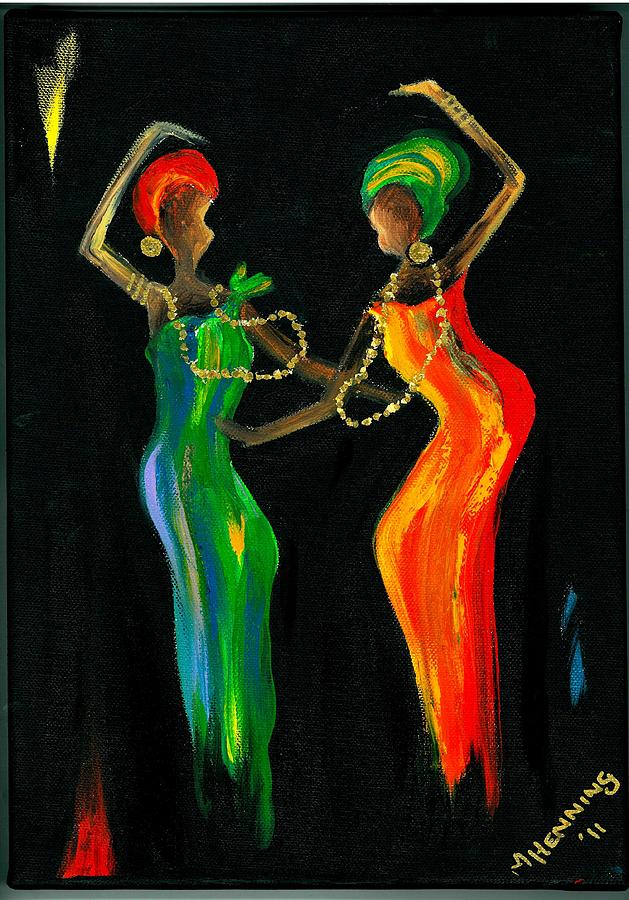 Honestly, I'll tell you all what "We" my generation named what they were doing… We called it the Cat Dance. Out of 7 sisters, 5 of them danced with gyrating hips/pelvic region, hands moving along, well in unison with their hips eventually making it down towards their pelvic region or outer hip, and they would pat the area a few times. Imagine little kids looking on, and we would crack up laughing behind their backs, of course. When we were older, we thought it was a mating call of sorts.
Mardi Gras Street Foodie
Hot Dogs Before the parade made its way to our location, one of my aunts would open up what I thought was a fancy bag because the inside was metallic silver. Now I know it was an insulated bag. Still, it contained individually wrapped chili hot dogs and tamales wrapped in foil. I loved those warm soggy, messy smashed-up chili dogs. They were so good we used to sing the OSCAR MAYER song while eating them. I would never enjoy a chili dog after my childhood.
Manuel's Tamales
Now, the tamales I could always remember growing up n New Orleans. My Mama uses to get the best hot tamales from Manuel's. He had a cart on the corner of Carrollton and Canal, and like all New Orleans, those tamales were beyond delicious. "New Orleans-Style Hot Tamales" might seem like a strange combination of words, especially if you are familiar with Mexican tamales. But, I assure you, there is such a thing as New Orleans Hot Tamales. Being a little kid foodie with a delicacy such as Manuel's Tamales wouldn't come easy, especially with all my cousins being around. Still, thankfully my fave auntie would always find a way for me to get one without my cousins seeing. I'm not sure if one of the other aunties or my cousins would have been the maddest because we all loved them, but there was never enough for all of us, but hey, I got one, and I would lick the tamale wrapping too, lol.
Candied Apples
Another food memory had been my love affair with Candied Apples, the hard, shiny, break your teeth red candied apples; I love em. I'm not sure why I'm so coo-coo for one of the simplest treats one can make. A candied apple consists of an apple. Of course, the outer part is nothing but sugar, corn syrup, and water, and I love em. I have walked a mile+ for a candied apple and would buy and eat 3 of them back to back. They are healthy for you, maybe not your teeth at that 1st bite, but after that bite, you are good to go, lol. During Mardi Gras, you can find vendors pushing grocery carts filled with candied apples, typically selling at $3 each or 3 for $5. Yasss, I know who, what, when, and where for candied apples. There's a food truck that sits on Rampart and Canal that sells them as well. But if I were you, I would buy from the guy pushing the basket because they make they purchase the apples from a larger vendor profiting only a $1.
Mardi Gras Teen Drama
After my flashes of childhood Mardi Gras memories, I was reminded of one of my worse Mardi Gras as a teenager…
I was an excited 15-year-old with a cute boyfriend, and I knew the months of talking on the phone, sitting on porches, and sneaking into his house when his Dad was at work would pay off at Mardi Gras. I just knew I would be in the Couple's Twinezz Club. I had what we would wear embedded in my mind since we met during Christmas Break, but I would be in the "Broken Heart Club" and the worse part about it was I had to suck up the pain..
It was 1988, and I visited my cousin who lived in the 8th Ward of New Orleans during our almost three-week winter break. It was a pretty warm winter, as I remember always being outside and walking to the park or store. One day my Auntie sent me to the store alone, and I decided to walk up Elysian Fields after an incident of being followed by a man some weeks prior. It wasn't safe for a teen girl to walk down any street where there wasn't any traffic.
As I walked up the street, I noticed two boys sitting on their porch. My first thought was to cross the street, unknowing what type of attention I would stir up from these strange boys, but it was too late. "Hey, do you play ball at Colton?" came out of the lips of the cutest curly head brown-skinned teenage boy as the younger dark-skinned one just smiled with pearly white straight teeth. I didn't like basketball, but it picked me, and it gave me the center stage to be seen by all the cute boy's. That's all it took to start-up our new-found friendship, and from that day forward, we were nearly inseparable or always on the phone.
I would find out that his name was Jamal, 16 years old, and his younger brother Derrick, 13 years old, were here from California to live with their Dad for the school year. Both attended St. Augustine. His Dad worked in a factory and played in a band. He was always gone, which left the teen boys unattended for the most part. Looking back, I wish I would have crossed the street to avoid the heartache of promiscuity, but hey, I learned a lesson; well, it took years after that for me to get it.
My cousin and I would go over to their house unbeknownst to my Auntie, who thought we were playing ball somewhere. Most of the time, we would listen to music outside on the porch or go for walks. We didn't take advantage of not having an adult in the home for some time, but I would eventually get invited into his loft/attic makeshift bedroom. It looked as if the bed took up the whole area, and the head of the bed laid right under the window, which was quite cool then. He told me how he would have people jumping into the street after screaming "Get off my property" in an eerie tone.
He got me up to his attic room with of all things some damn food; a PoBoy, pecan candy, packs Now Laters, and a Pineapple Big Shot. Let me stop. He invited me upstairs because it started to rain as we walked back from the store, and the video was on BET at the time, but I know he arranged it now. My cousin wasn't with me this time, and it felt like a Lil date back then. So, there I was, following his lead as he pulled down the attic steps that lead to his room.
Ready For The World, an all-boys/men R&B Group came out with the hit "Tonight," and Jamal looked as if he could pass for a member, especially after I found out his curls were from products of "Care Free Curls." Well, that song would be the prelude to me letting Jamal, "Love Me Down," and I wish I knew what we were doing, well, what I was doing, because it's a blank. This would be my second time having sex with a boy, so I just laid there and then got up. I remember him putting on a condom, a sloppy kiss, and us jumping up when we heard his brother yell, "Dad's on his way home!" Maybe we didn't do it??? I do not know, or maybe I blocked out the event because of the trauma that followed.
My new relationship took me backstage for the rest of my life, plus I lived in Uptown and had to catch the city bus to and from school, didn't have time to sneak him in my schedule. I tried, though. On the days I could stay after school, I was busy being forced to use my height on the basketball court or practice. My Mama made things worse by hiding the telephone from me and talked mostly on the weekends. I was so happy when Mardi Gras season came. It meant I could go by my cousin's house and see Jamal.
The day didn't go by fast enough. My Mama permitted me to go to my cousin's after school to stay through Mardi Gras. I was so excited, sitting on the steps waiting for my cousin to come home from school so that we could make plans for my stay. My Auntie wasn't home yet, which meant we would have run of the house or not even be in the house. I spoke to Jamal the day prior, he didn't sound too excited, but I blew it off as "Boys." I was happy to see my cousin and Jamal walk up at the same time, searching their faces for a mirroring reflection, but there was none. My cousin greeted me with, "Jamal and I need to talk to you." I'm 15 years old, and this was my first "We need to talk to you" experience, and I honestly thought we were going to talk about what we were wearing for Mardi Gras. I wasn't prepared for what they told me. Nor how adult-like it went down.
As we entered the French double doors, my lips were aflame with the stripped Mardi Gras Polo's I saw at Maison Blanche and Adidas tennis shoes. "I can't wait until Mardi Gras, my Daddy said. We would go shopping for my tennis shoes and give me money to buy myself a polo, what about yall? We don't have to match completely, but long as Jamal and I have the same shirts at least." I said that, along with a million other things. My voice seemed to echo through the house. Before I can make it to put my backpack away, I noticed that Jamal was standing in the living room as well, we never had anyone in my Auntie's house, so when he sat, I sat. My Auntie had these fancy wingback suede chairs that sat along each side of the wall, divided the living room from the bedroom. I found myself sitting and sitting silently. Jamal and my cousin were sitting on the plastic-covered sofa that none of us ever sat on either. All I could think was, we needed to hurry the hell up outta this house before my Auntie comes home, or there will be NO Mardi Gras for us.
I'm not sure when they grabbed hands and went into the "You tell her, No You tell her" monologue, but my cousin finally said, "Jamal and I are boyfriend and girlfriend." All I could do was sit there, silently, no tears, no words, no cussing, no movement, I just sat. I sat so long they left me in the house. I would never know how they broke my heart into a million pieces. I never let my cousin know that she was my cousin and best friend, and I didn't understand how she did that to me. I never asked her how she can do that after she not only saw us kiss, but I told her about the "Ready for the world Song." Maybe. If I had told her something then, we wouldn't have repeated issues like this over the years.
However, I did say I was not going to Mardi Gras with them, which led to another talk. This time with my Auntie, who was clueless about our situation, I wasn't the type to tell. Well, what would I have said?? "I'm hurt, I'm broken-hearted, because she stole my boyfriend, that I had sex with while his Daddy wasn't home in an attic space???" I would have had my azz beaten. I was told that "WE" were going to the parade together or no parades at all. Not even for Mardi Gras, including the other kids, like my little sister.
I'm always the martyr, so off we went to the parade. We walked to Canal St. to catch the Endymion parade, the four of us, me, my cousin, Jamal, and his little brother. I wanted so bad to lose them, but I couldn't in fear of catching a whipping so that I would lag behind them a block or more. When we made it to our spot, the deal was if we separated, met up, and returned home to a specific place.
I was finally able to release my emotions among the excited massive crowd of parade-goers as the parade rolled against the evening skies. No one was concerned about the floods of tears pouring down my chocolate cheeks onto to New Orleans pavement. They nor I cared to budge when beads whipped across my face… I stood in that one spot and just cried through the whole parade and didn't drop a tear afterward. Honestly, it felt good and the beads hitting me in the face made an excuse for my swollen eyes..
I'm happy that moment in life didn't harden me, didn't take the joy and anticipation out of not only Mardi Gras, but my relationships with my family, friends, and men. I have yet to be dressed as "Mardi Gras Twinezz" with a man, although I have celebrated and enjoyed a couple of Mardi Gras with a date.
Life and love go on, and as y'all know, we live by "Laissez les bons temps rouler" here in New Orleans. Now, let me get my Mardi Gras started so I create more memories, but the new ones will be full of love, fun, excitement, and a few daiquiris!