I'm pretty sure you have heard by now that Queen and CEO of the multi-media entertainment industry and executive producer of the VH1 reality show, "Love & Hip Hop," Mona Scott-Young is returning to her beloved New Orleans. Mona is coming to celebrate us, the people of New Orleans, and contribute to the continuation of our cultures and traditions in the Treme neighborhood!
This time around, she will wear the crown of the She-King of the Treme Sidewalk Steppers Social Club, sharing the royal throne with King-Elect Hiram H. Smith of Hiram Style!.  The Treme Sidewalk Steppers celebrated their 25th Anniversary last year and it looks as though the celebration isn't over!
It was just last year when Mona and her Monami Productions Krewe rode the queen's float in a second-line parade organized by Hiram Style, which took place downtown New Orleans. The parade featured the Treme Sidewalk Steppers, The Versatile Ladies of Style, The Zulu Tramps, The Big 6 Band, and The Greatest Show on Earth.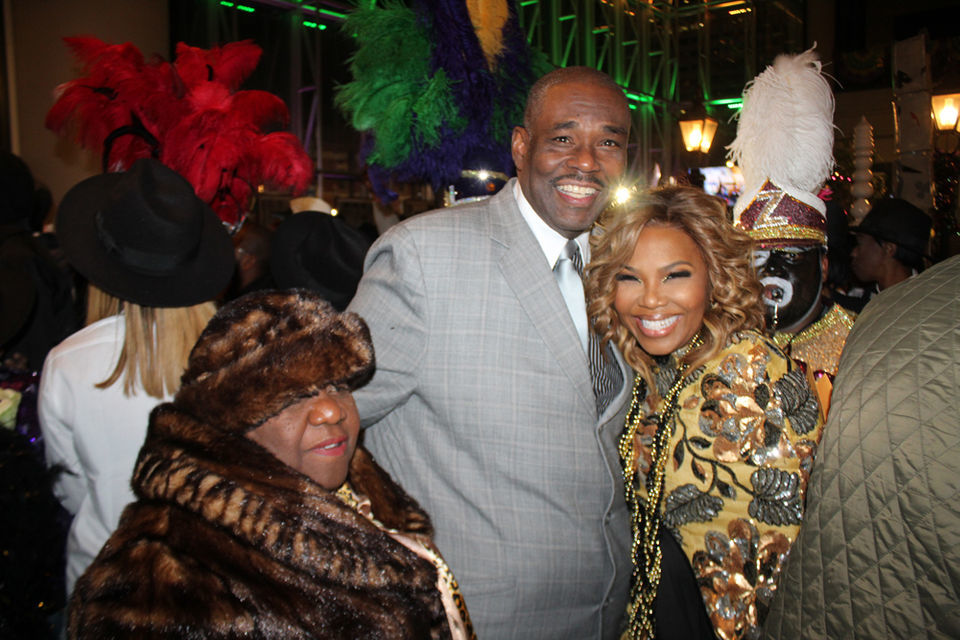 This year She-King Elect Mona, King-Elect Hiram, and the Treme Sidewalk Steppers have pulled out all the stops possibly give Zulu a run for their money or shall I say coconuts. I say this as a loyal Zulu Social Club fan and yearly Zulu Ball attendee. But… This year there not only will there be what I hear being called a Treme Mardi Gras, but the entire weekend is jammed packed full of "NOLA Style" Mardi Gras Festivities. There's a Royal Gala on Friday, February 7th leaving Saturday open for us to rest up and reenergize for The Greatest Show on Earth; the SideWalk Steppers SecondLine Parade on Sunday, February 9th ending with The Official King & Queen SecondLine After Party at the Treme Hideaway.
Last year a press release stated that:
"New Orleans has always been a special place for Scott-Young as she and husband Shawn Young were married at the chapel at Dillard University and returned to celebrate their 10-year vow renewal at Pavillion Of Two Sisters Botanical Gardens. While in NOLA for the Realscreen Summit, Scott-Young wanted to celebrate the city she loves in true Mardi Gras fashion."
And she accomplished just that! but this year she's coming through New Orleans, particularly the Treme neighborhood with some Mary J Blidge "Real Love!" 
I'm getting all emotional thinking about how significant this is for a celebrity to take part in Second-line Sunday in Treme. Not so long ago, our ancestors, slaves gathered on Sundays to dance at "town square" of Tremé, Congo Square—formerly known as "Place des Nègres." Sadly, this one day off away from the eyes of the slave master to come together to possibly speak in their native tongue, praise, dance, and sing of life before being enslaved would come to an end years before the Civil War. The slave owner's concerns that these gatherings would result in slave uprisings and made it illegal for them congregate. But this did not stop our ancestors from finding ways to continue the tradition and to this day we continue to host SecondLine Sunday throughout various Wards in the city.
This weekend Mona Scott-Young who is not a New Orleanian will celebrate with us just as our ancestors did in a traditional New Orleans SecondLine! We have looked up at countless celebrities as they rode up high on Mardi Gras floats down the wealthiest streets in the city; celebrities have waved to us from their guarded Bourbon Street balconies. But it's been years since a celebrity, except for those who are NOLA born and raised to take to the streets with us in our community. Now don't think she will be doing footwork with the locals under the bridge, but from all the buzz I'm hearing, we will get to see what she working with lol.
Y'all know how it goes down under the Claiborne Bridge on SecondLine Sunday now let's add New Orleans own Wyndel Pierce and Mia X hyping up this weekends event! As they say, "It's Gonna Be Litt" in a major way! "Get ready, get ready," in my DJ Jubliee's voice!w let's add all this Fabulosity and the likes of Missy Elliot, Khandi Buress, New Orleans own Wyndel Pierce hyping up this weekends event! As they say, "It's Gonna Be Litt" in a major way! "Get ready, get ready," in my DJ Jubliee's voice!
Second Line The Series Feat. Treme Sidewalk Steppers with Scubble The Sidewalk KING 
Directed by Stacey M.

The events are hosted by the Treme Sidewalk Steppers, who take to the historic streets of Treme annually for the Faubourg Treme. The group preserves cultural heritage, uplifts the community, and raises funds by dancing to music created on these streets and delivered to their ancestors in Congo Square.
Source: https://www.nola.com/entertainment, www.monamient.com,  https://www.instagram.com/sidewalksteppers, http://www.hiramstyle.com/